In an otherwise sluggish market, shares of Mangalore Refinery & Petrochemicals (MRPL) and Chennai Petroleum Corporation (CPCL) soared up to 19% and touched 52-week highs on Tuesday's session on the BSE amid strong volumes.
The fact that the Singapore gross refining margin (GRM) has risen to a new high of $25.2 per barrel is good news for Indian refiners that transform crude oil into refined goods. Individual equities such as MRPL rose 19% to Rs 107.35, while CPCL rose 17% to Rs 374.80. The S&P BSE Sensex, on the other hand, was down 0.93 percent at 55,159 at 10:07 a.m. On good profits, CPCL has soared 234 percent and MRPL has soared 145 percent in the last three months, compared to a 4% rise in the benchmark index.
When compared to the average trading volume over the previous 10 trading days, these counters' trading volumes virtually tripled. On the NSE and BSE, a total of 24 million shares traded on the MRPL counter, while 8.02 million shares traded on the CPCL counter. With effect from today, the stock exchanges have increased the circuit limit on certain equities from 5% to 20%.
CPCL is a downstream petroleum company. It makes a variety of petroleum products with added value. MRPL is a subsidiary of Oil and Natural Gas Corporation Limited (ONGC), which owns 71.63 percent of the company's ownership. CPCL recorded a four-fold increase in its consolidated net profit in the January-March quarter (Q4FY22), from Rs 242 crore in Q4FY21 to Rs 1,002 crore in Q4FY22. Year on year (YoY), revenue from operations increased by 43% to Rs 20,997 crore from Rs 14,705 crore in the preceding quarter.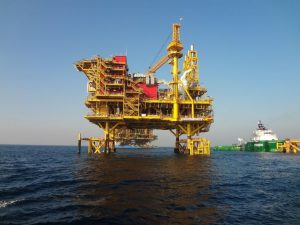 Higher crude output and greater gross refining margins helped MRPL achieve a standalone net profit of Rs 3,008 crore in Q4FY22, compared to Rs 268 crore in Q4FY21. MRPL adopted several steps to increase marketing margins in domestic, export and B2B (business to business) transactions. As a result, gross operating revenue increased 36% year on year to Rs 28,228 crore from Rs 20,793 crore in Q4FY21.
Transport fuel product cracks are now trading at multi-quarter highs. According to experts at ICICI Securities, GRMs are projected to gain from a favofavorablebal refining landscape, and the MRPL is predicted to generate robust earnings in the short future.
Meanwhile, on the BSE, Oil and Natural Gas Corporation (ONGC) rose 6% to Rs 162.85. Oil India set a new 52-week high of Rs 288.95 in intraday trade Wednesday, up 4%, after soaring 15% in the previous two trading days.